MCCRACKEN COUNTY, KY — A McCracken County man charged in the case involving more than 100 neglected animals had his first court appearance Thursday. 
David Howery faces 25 counts of second-degree animal cruelty. 
A McCracken County judge set bond for Howery at $25,000 and appointed a public defender to represent him.
Every animal has been seized from the home on Broyles Avenue in McCracken County.
McCracken County Detective Sgt. Benny Kauffman said the animals were sent to Howery's home overtime to be adopted out to other people, but that never happened. 
Howery also had an outstanding bench warrant from a previous animal cruelty conviction in Adair County, Kentucky. He will be back in court on May 9.
Removing animals from the property
The investigation and removal of the animals was a joint effort among the McCracken County Sheriff's Office, McCracken County Animal Control and the nonprofit organization Guardians of Rescue. 
The process began Wednesday and evening and ended 24 hours later. 
The animals include 65 to 70 dogs, 26 goats, 12 chickens, eight turtles, two horses, two pigs, and one pony. Animal control personnel discovered cats on the property Thursday. Several of them were alive, but several others were dead. 
They are still trapping the cats, because they are feral. 
Guardians of Rescue staff and volunteers are now taking care of the animals, getting them into clinics and feeding them.
The nonprofit is a national animal welfare group that assists law enforcement in abuse and neglect cases. The members helping in this case work in Kentucky, Tennessee and West Virginia.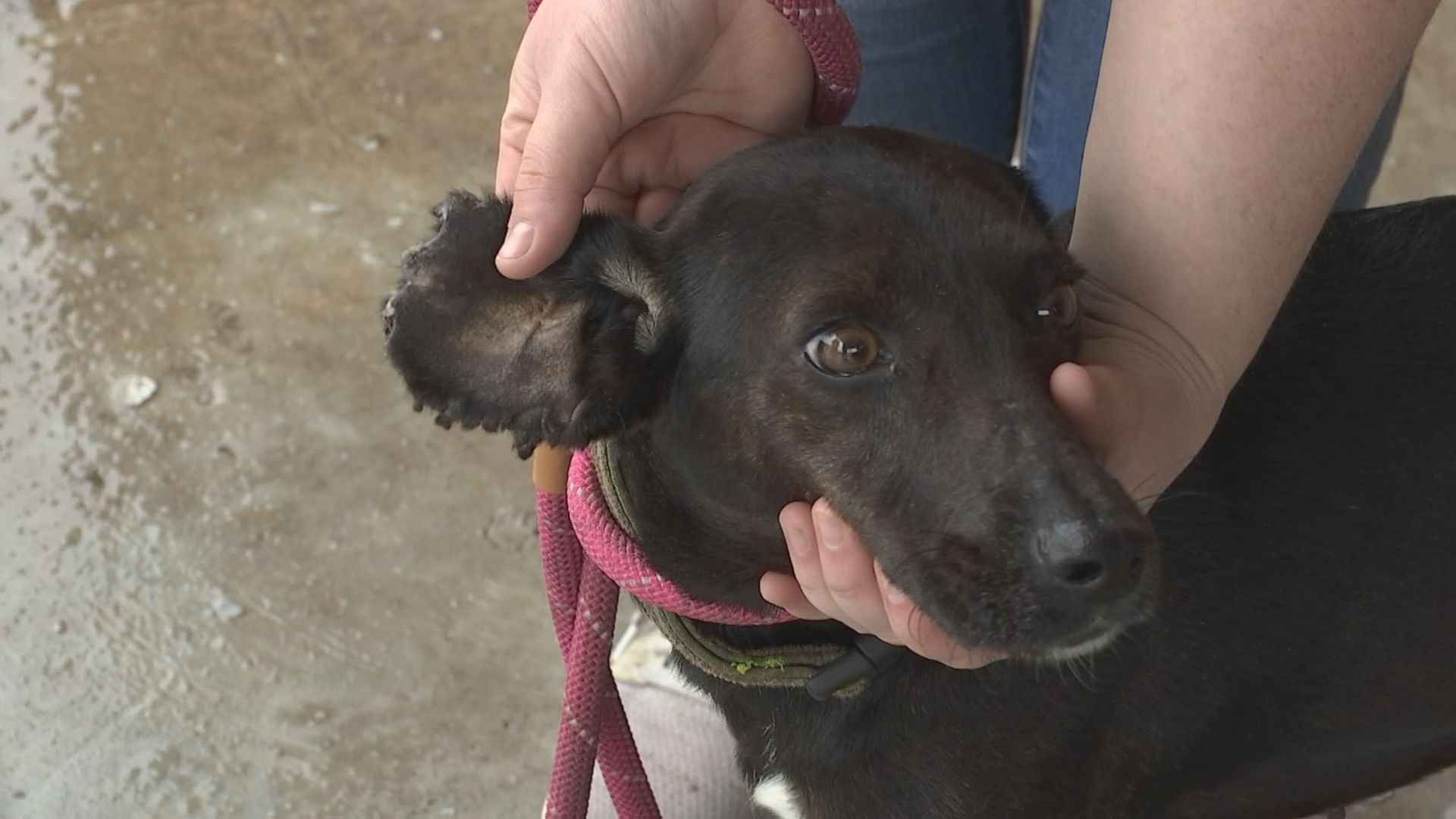 James Houchins is the nonprofit's field operations director for Kentucky. He described the scene as terrible.
"We have broken limbs, we have respiratory issues, eye issues, several that are so emaciated that there's no muscle tone left," said Houchins. "They're having a hard time walking, standing, just from being starved." 
Flies and feces were everywhere on the property. Detectives and rescue group members said conditions were worse inside and behind the home.
Crates were filled with clumps of sawdust and feces and dogs.
Most animals have been removed, with some already given to rescue groups.
Caring for the dogs
More than 50 dogs were taken to the old gymnasium at Hendron Fire Department on 4535 AT Massa Drive in Paducah. They are in crates, waiting to be taken to veterinary offices or rescues.
Volunteer Courtney Nash said the animals have been through a lot. 
"Some of the dogs have some bite marks on their faces where they've been in fights and stuff, so it's pretty sad," said Nash.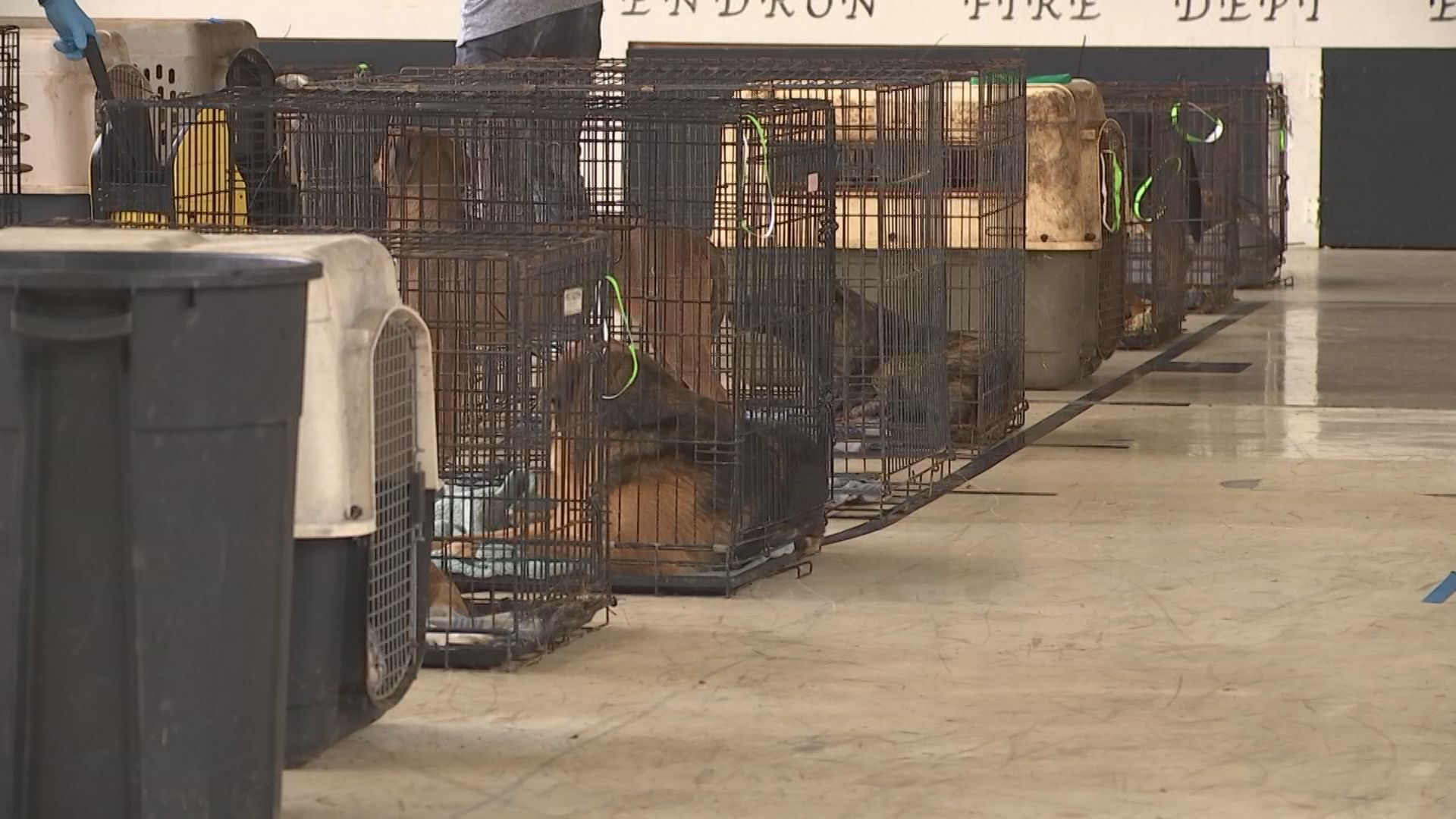 Volunteers have been there all day.
"We got here this morning, and there's been a bunch of dogs in cages. Been walking them, making sure they have food and water, and just making sure they're in clean cages, because they haven't been," said Nash. 
They say most of the female dogs are pregnant, but they are still having every animal checked out.
Transporting animals to rescues
Guardians of Rescue is having all dogs scanned for microchips before they are transported to rescues. Houchins said if an animal is discovered to have a microchip, the organization will call the owner associated with it.
The Kentucky Humane Society is one of several rescues that made the trip to McCracken County to pick up animals. The goats, horses and pony went to A&A Horse Haven in Boaz, Kentucky.
They were the same rescue that picked up horses from the neglect case in Lyon County in March. 
Efforts to end animal abuse and neglect in Kentucky
Every animal will go to a rescue. None of them will be euthanized. But volunteers say they want to see justice. 
"It's very, very sad. We see these conditions a lot here in Kentucky, and to me, these owners are not held accountable for the way they treat these animals," said Houchins. "It's just sometimes a misdemeanor or felony charge and that's it."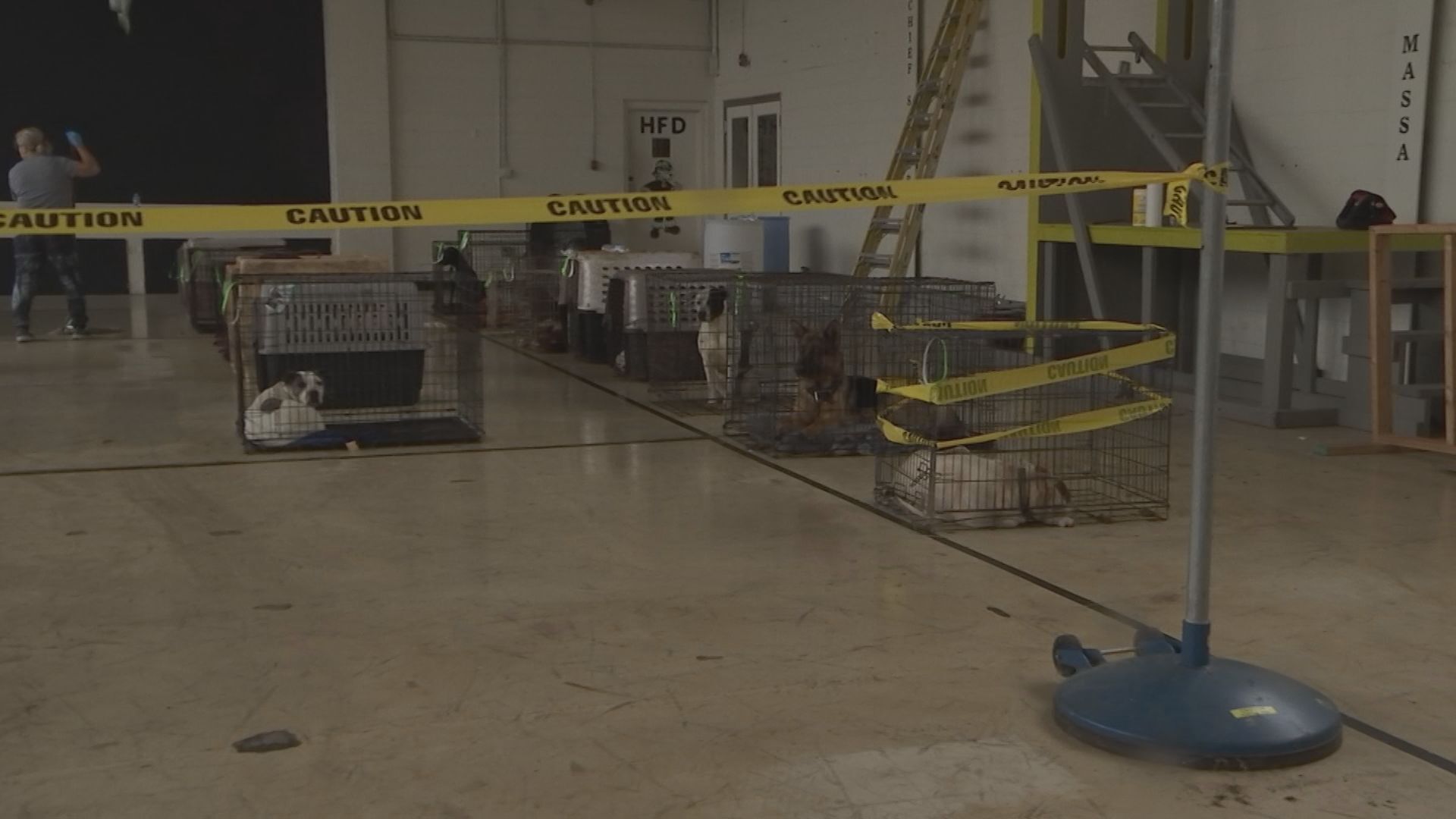 In the Animal Legal Defense Fund's 2020 rankings, Kentucky ranked 44th in the nation for state animal protection laws. 
Kentucky state Rep. Chris Freeland represents the 6th District. Freeland has been pushing for House Bill 57. 
"Kentucky has a torture law already, but the consequence is a misdemeanor and the worst of the worst can be a felony," said Freeland.
His bill would expand on the definition of torture for domesticated animals, such as dogs and cats. 
"This bill would include domestic animals and include intentional and gross neglect," said Freeland. 
The bill has not passed yet, but he said cases like this one show the need for tougher laws. 
"I have followed it, and of course it's heartbreaking. Sadly, that story doesn't get told very often," Freeland said.
Freeland filed the bill last year, with bipartisan support from 47 cosponsors. 
"I'll file again. It will be an identical bill. If we can just get a hearing, the thing will pass," said Freeland. 
He said the laws are not meant to punish, but serve as a deterrent to those crimes. 
"What's going to stop them from doing this again?" asked Freeland. 
How you can help
Donations have been pouring in all day to help take care of the animals.
Local 6's Jack Kane reports that donations poured into the Hendron Fire Department's gymnasium throughout the day to help dozens of neglected animals rescued from a McCracken County home. 
MORE DETAILS: Donations pour in for abused animals rescued in McCracken County
They need monetary donations. If you would like to donate, visit the Guardians of Rescue website. 
Guardians of Rescue needs volunteer dog walkers. If you would like to sign up, call Houchins at 502-529-1591.